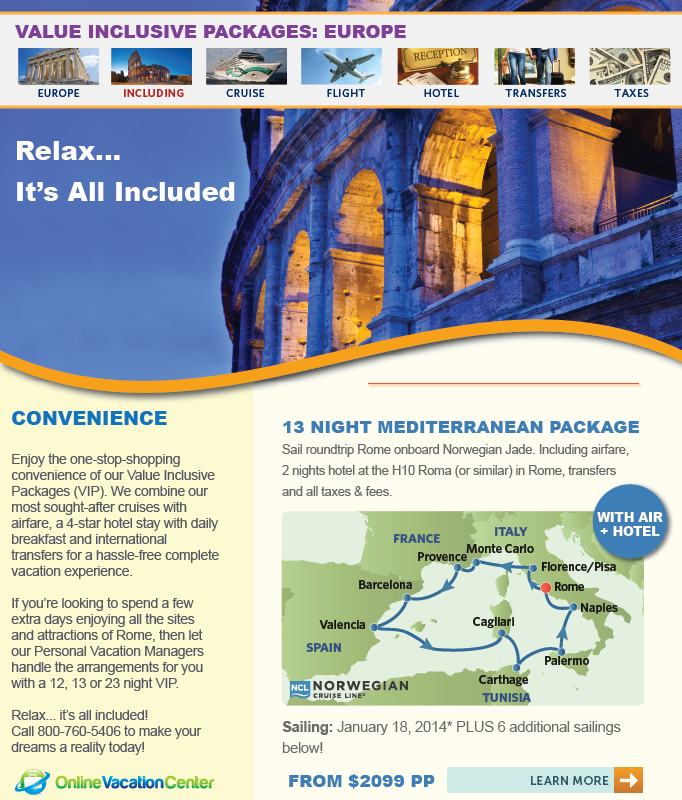 DATE
INSIDE
OCEANVIEW
BALCONY
SUITE
DETAILS & INCLUSIONS
12/07/13
$2149
$2299
$2549
$2849
Including airfare, 2 nights hotel in Rome,
transfers and all taxes & fees Learn More »
12/28/13
$2699
$2899
$3449
$3899
Including airfare, 2 nights hotel in Rome,
transfers and all taxes & fees Learn More »
01/18/14
$2099
$2199
$2399
$2749
Including airfare, 2 nights hotel in Rome,
transfers and all taxes & fees Learn More »
03/01/14
$2199
$2299
$2599
$2899
Including airfare, 2 nights hotel in Rome,
transfers and all taxes & fees Learn More »
03/22/14
$2399
$2499
$2799
$3099
Including airfare, 2 nights hotel in Rome,
transfers and all taxes & fees Learn More »
04/12/14
--
$2799
$3149
$3349
Including airfare, 2 nights hotel in Rome,
transfers and all taxes & fees Learn More »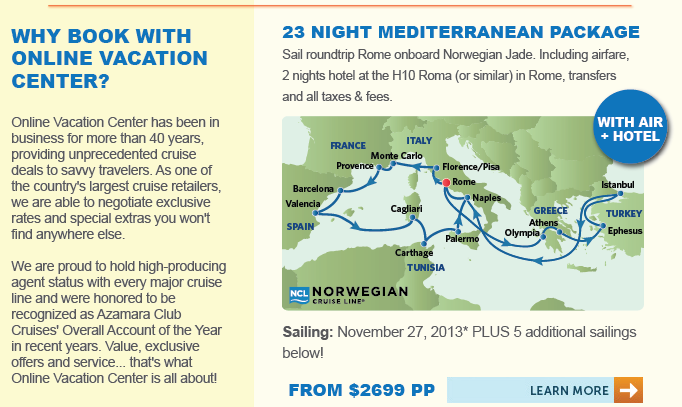 DATE
INSIDE
OCEANVIEW
BALCONY
SUITE
DETAILS & INCLUSIONS
11/27/13
$2699
--
$3299
$3699
Including airfare, 2 nights hotel in Rome,
transfers and all taxes & fees Learn More »
12/18/13
$3849
$4199
$5149
$5849
Including airfare, 2 nights hotel in Rome,
transfers and all taxes & fees Learn More »
01/8/14
$2849
$2999
$3349
$3749
Including airfare, 2 nights hotel in Rome,
transfers and all taxes & fees Learn More »
03/12/14
$3199
$3349
$3749
$4199
Including airfare, 2 nights hotel in Rome,
transfers and all taxes & fees Learn More »
04/2/14
--
--
$4149
$4449
Including airfare, 2 nights hotel in Rome,
transfers and all taxes & fees Learn More »

CHECK OUT ALL OF OUR VALUE INCLUSIVE PACKAGES:

Don't Delay! Call a Personal Vacation Manager today!
These rates will go quickly - 1-800-709-9524!

*Date for advertised price and itinerary. Air is from select gateways only, and additional select gateways may be available for an additional add on. Purchases made onboard plane or in terminal not included. Prices are per person, double occupancy. Prices and itineraries are based on availability and are subject to change without notice. New individual bookings only. Offer can be withdrawn at any time. Additional restrictions may apply. All fares may be subject to fuel surcharges if imposed by cruise lines and airlines. Transfers, service fees, and other ancillary charges are additional unless otherwise noted. Online Vacation Center is a registered Seller of Travel with the States of Florida (ST-32947), California (CST-2064227-40), and Washington (WA SOT 602250083).
© 2013 Online Vacation Center
ONLINE VACATION CENTER | 1801 NW 66TH AVENUE | SUITE 102 | PLANTATION, FL 33313-4571